Speed Drawing and Process Of a Nebula Sketch Card
Nebula, is a really cool cahracter, and im glad that she played a vital role int he avengers endgame movie. Even in the comics she was a major hero. Please read the infinity wars if you have not, it is a great read, and who can beat the classic comics?
We are now on week two of commisioned Sketch Cards, and this blog /video to go along with it. You can get the weekly Blog by signing up below , or you can
subscribe to my youtube channel
, where youll get the latest and greatest videos from Yours truly. Check out my social links below if you would like to follow me on any social media Platforms also!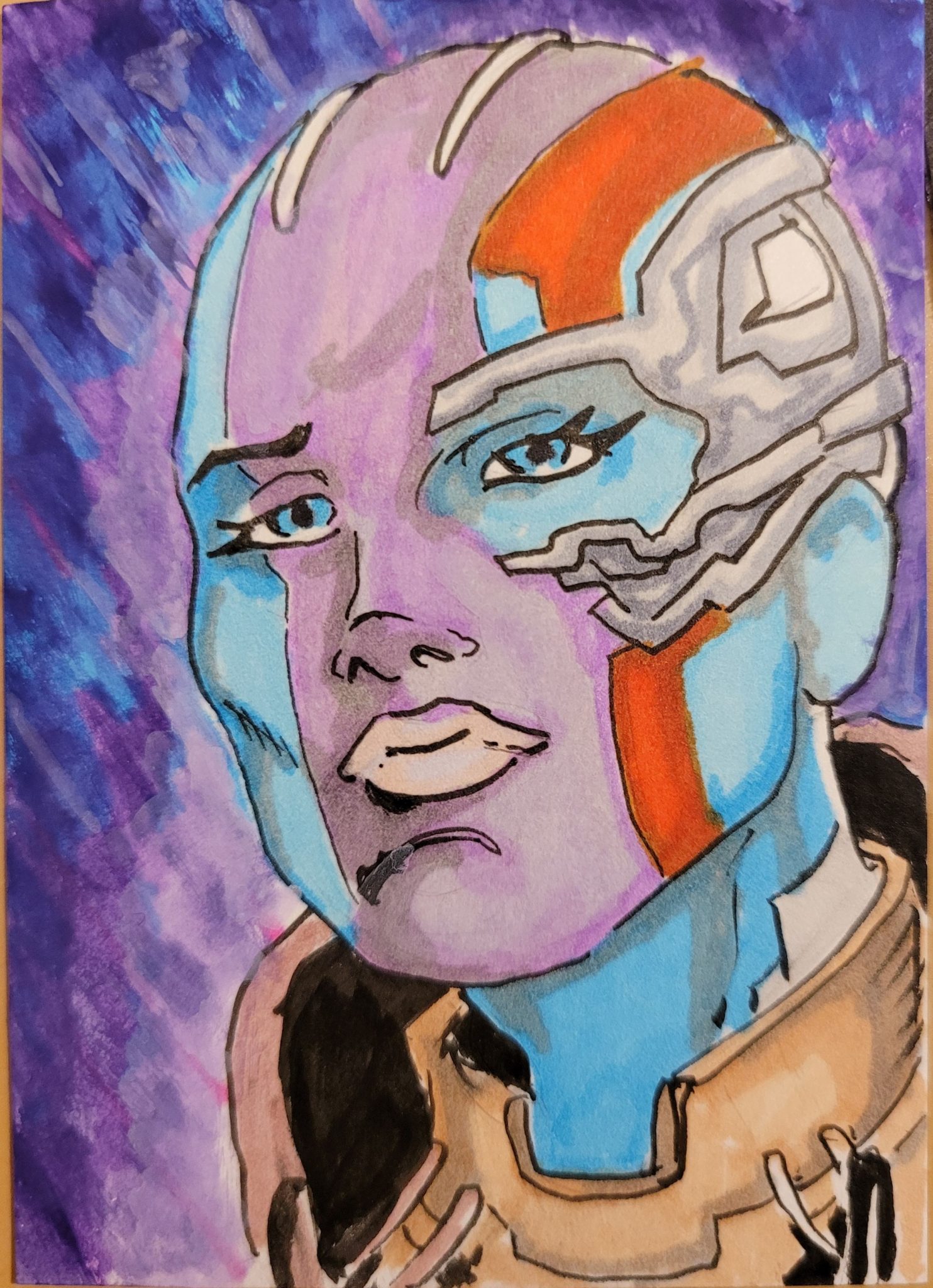 For Those Of you who are interested and are fellow artists, not much has changed from the previous videos but, I used A plethora of different art Supplies. Please Note Some of these Links may be Affiliate Links to external sites. so I can buy a coffee if you guys buy a hundred of these.
Penciling
For the Penciling process, I used a mechanical pencil with 2H lead, You can find a good set here:
Staedtler Mars Technical Mechanical Pencil Set
If you are new to penciling comics, I would recommend getting one of those.
Inking
For the inking, I used a Tombow Fudenosuke Brush Pen (soft nib) which you can find here:
Tombow Fudenosuke Brush Pens (2-Pack)
Coloring
So these arent the cheapest tools in the shed by far, but for all the color on this piece i used copics. I often times will use cheaper markers for the backgrounds but in this case i did not. The Copic store has a bunch of different colors and more on amazon. You can find them here:
Copic Marker Store
Watercolor
The big difference this week was i added Water color on top of the copic markers which gave me the color and gradient i wanted.. it was fun tinkering with this and i will def use this method again in the future! My amazing wife got me these and i just love playing and messing around with the colors.. you can find it here:
Arteza Classic Watercolor Paint, Set of 36 Vibrant Color Cakes
Hopefully You guys enjoyed this video and this blog post, i plan on having a lot more fun content, speed drawings and art advice soon. As i knock out this Christmas's commission list , hopefully i still have time to make stuff for the fam. Hope you all stay creative and stay tuned! subscribe below and check out the cool products too! I am working on a few more different shirt ideas and stickers and more.. Art Box Coming Soon! Comment on this blog to let me know what you want to see in a art box! Make sure you ubscribe for week three!
Check Out Some of my latest Store Products
Subscribe to Our Newsletter