Day in the life of an Artist ~ My First Convention!
Well Guys and Gals, I got to say, Conventions Are Super Fun. Not like I haven't been to one before as a regular Joe, but it's a different experience As an artist. Stick around and watch or read, because I'm going to delve into what my first experience was like at flower city comic con in Rochester NY as an exhibitor.
So I got to start off by telling you all what a wreck I was. Seriously I was so nervous, I was literally shaking. So many different things go on in your head as an artist when you are trying to show off to a new audience of people. Questions I ask myself, like what if I'm not good enough? What if they all laugh at me? What if I don't have enough to sell or my booth looks like trash? And probably a ton other negative questions about how I could fail.
Some of you may ask, why would you choose to go to a convention if you were going to be nervous about it? Well my curious little friend, I knew that if I did not do it for that reason, I would most certainly never do it. Even Though I ask the questions like the ones I stated above, I firmly believe the only way to make it in the industry is to first try, and try until you make it to one of your goals. Life is about little steps, and this was a little step in a jog of becoming a living, breathing comic artist. I chose this convention because it was close, within an hour of a drive so that I didn't have to add on the worrying of if I was going to have to stay in a hotel, or the added expenses. Because I did not know, what lay ahead of me in this journey, so I took the road safest traveled, because that was an option that was available to me.
I took my wife with me as a security blanket, and to be honest she was just as excited as I was. She wanted to be there for my first experience, because she's stood by me and supported me, even when I was completely frustrating to deal with. So going with me was almost a reward for her. And to me, it meant the world. But we got there around 7:30 am (the convention started at 9:30 am) and parked in the back of the convention center and grabbed my heavy box full of supplies. Now mind you, I only had about 6 or 7 different prints with me as I didn't know what would sell and what would work. But I brought what I thought would catch the most eyes. So I setup my table, with my comic blanks, commission pricing, business cards, prints, and metal prints. And finagled with my setup. Of course, I didn't have near as much as other people, and of course, I Didn't have a backdrop, or tall banners, just what I printed out for a sign. James Sullivan, Sketching the Beast. "How cool to display myself like this" I thought. Once we were setup, we walked around and I tried to quell myself for what was to come. To be honest I prepared for the worst outcome that day, so that I would not be as disappointed by the result. My wife continued to assure me that everything would go great and that I was a good artist. I am sure many of you know, artists can be the worst when it comes to confidence. We are always doubting our talents and abilities. Even though to most people it comes off as self-harming, it is really a way in most cases; for us to continue to propel ourselves forward in our abilities. This is so we may continue to reach new heights in our field. We walked around for about 30 minutes ensuring not to really bother people who were setting up. But I enjoyed what I saw, a lot of anime trinkets, Pokémon, comics, and a lot more, I wasn't expecting to see like magic and D&D equipment. I met a single artist as he was setting up, and I was terribly jealous of his skills, which did not help my confidence at all. "His pencil lines are so friggin clean, and these panels are amazing" I said out loud.  I talked to him for a few minutes and told him where my booth was. And we got back to our table
When the convention opened, we had been sitting there for a good while which honestly felt like forever. I doodled a little and chatted with my wife while we played on our phones aswell. Mind you, I did not know, usually artists will work on new pieces during this time so I waited patiently. It wasn't until around 10 am people started coming in one by one. There wasn't a ton of people off the bat. I had a few people walk by my table, and glance for a moment, then continue on. It was like that for a good hour or so, before people actually started talking with me and actually looking at the work. I offered my business card to any who stopped and looked. The biggest Eye catching piece at my table, was in fact, the metal print, as I somewhat expected it to be. The guy / guys at Faerie Metal Photography did an amazing job creating my venom piece on metal. IT was as sharp as it could be. In fact, made the piece look even better as the hues of blue were brought up against the red background. Id like to think I just did a really good job with the colors. Anyways I had very few sales my first day, perhaps 2-4 prints throughout the whole day, which wasn't terrible. I was happy people were chatting with me and looking at my stuff with content, even if they didn't buy anything. It was nice to feel appreciated. There wasn't a single bad thing said about my work or the stuff I did.
First commission at the con
It wasn't until around 2-3 o clock that I got my first commission at the convention, and man he was stoked to get a piece, which made me feel amazing. So he purchased a green lantern comic and had me do a lantern on the piece. So I told him I'd try and have it done soon, tomorrow at the latest, and took down his info to let him know when it was done. I wanted his piece to be perfect so I did a practice piece on Bristol so that I would know what I wanted to do for the pose, and did so, he came around again, but I had been busy chatting with people that I had not yet transferred it to the comic. It can be tough to juggle. Anyways, I was able to finish the piece later that day. so he stopped in at the end of the second day to come pick up.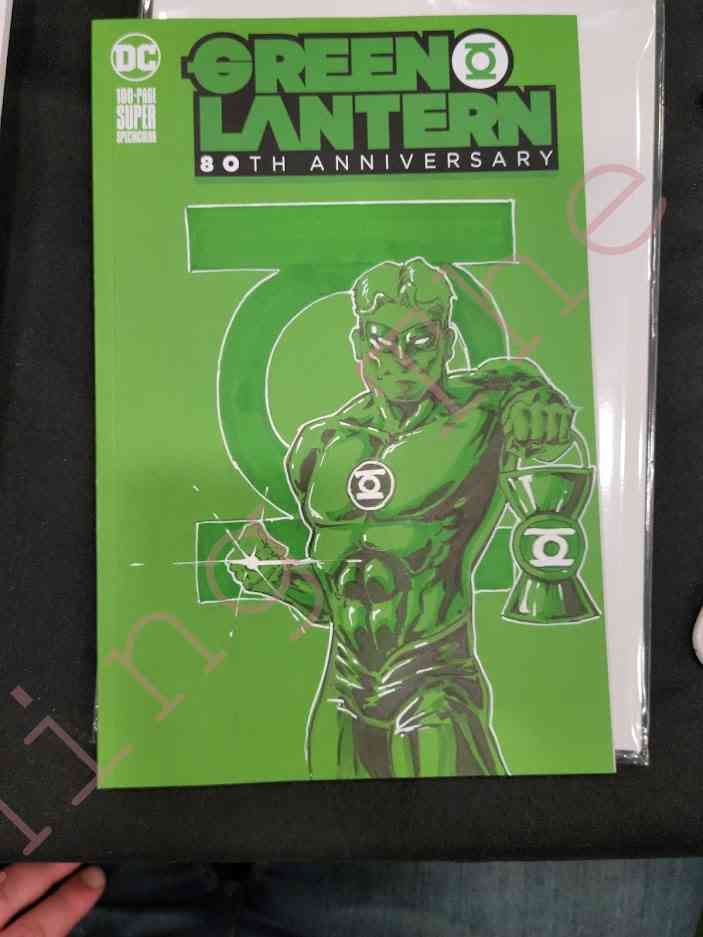 Overall I did really well and had a ton of fun. After I quelled my ego, things got a lot better and I stopped being so nervous. I met some awesome artists, who I have to say in my opinion, were definitely much better than me which means I have a ways to go to get where I want to be, but ill keep going. I have another Comic con Coming up that I decided to hop on last minute out in Saratoga NY. Which I got accepted to exhibit at. I'm so excited,, but this time it will be far from home, so I'll have to get a hotel and all that jazz so it will be a different experience for me. Once that convention is complete, I may take a short break from conventions to concentrate on my art and my projects. I may even contact the writer who wanted to work with me. But there's so many things I need to still learn. But that's part of the adventure right?
Check Out Some of my latest Store Products
Subscribe to Our Newsletter